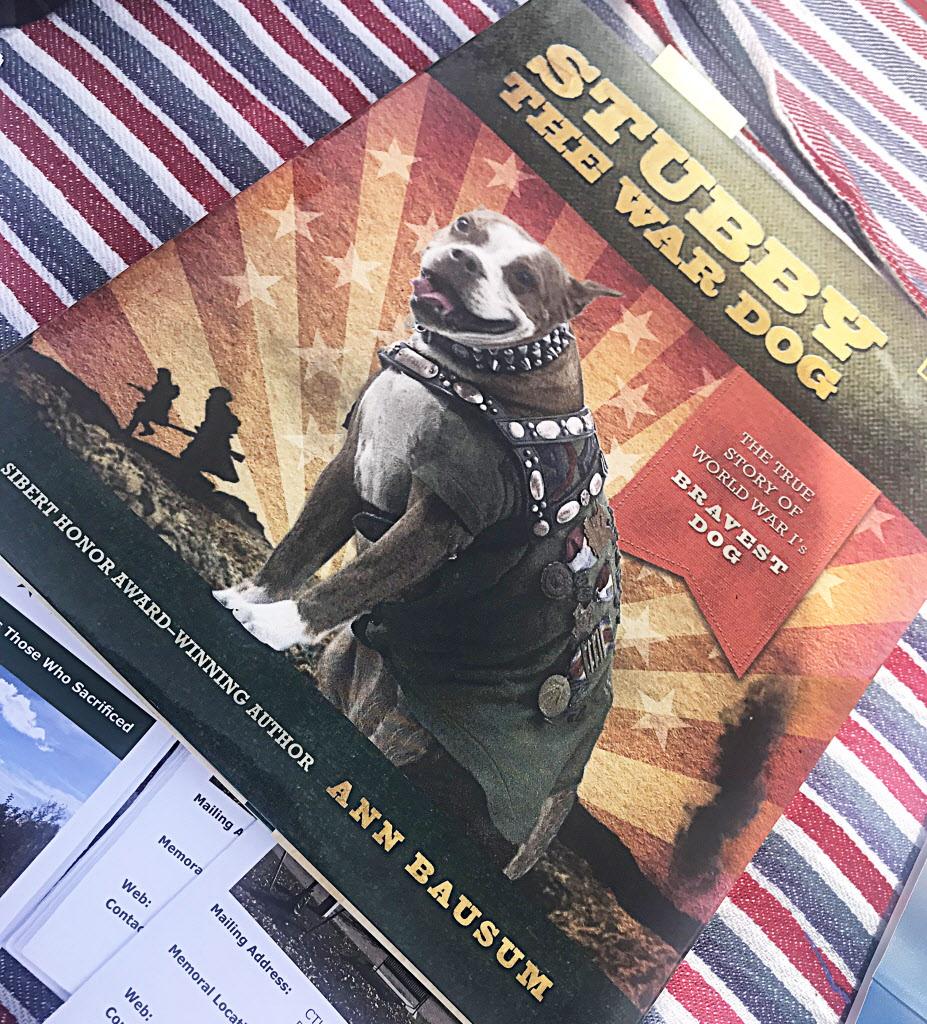 Photo: Cassandra Day / Hearst Connecticut Media /
MIDDLETOWN — The city's tranquil park that honors the 65 Connecticut heroes who lost their lives in service to the country while serving in Iraq and Afghanistan will soon include a tribute to a very special service dog.
Some 25 people gathered recently at Veterans Memorial Park to reveal plans for a bronze statue to be erected this spring in the entrance way area of the Connecticut Trees of Honor to memorialize Sgt. Stubby.
It took more than 30 years for the Deane family find the perfect resting place for America's best-known military working dog, said Curt Deane, grandson of Cpl. J. Robert Conroy of New Britain. His grandfather found the stray mixed breed he named Stubby while training near the Yale University campus in New Haven during the spring and summer of 1917.
"They think he's more Staffordshire Bull Terrier than anything else," Deane said.
Conroy was there with the 102nd Regiment of the 26th Yankee Division before the unit was shipped off to France at the start of America's entry into WWI.
The men very quickly became endeared to the canine, designating him Sgt. Stubby.
Very soon, the canine will have another grand tribute — on a national stage — when the animated movie "Sgt. Stubby: An American Hero" will premier nationwide April 13.
"It really is a fulfillment of promise I made to my grandfather back in the '80s. When I realized it was the centennial [of the U.S. involvement in World War I], it was the right time to do it," said Deane, who met Trees of Honor founder Sue Martucci through "a friend of a friend."
His family had been trying to find locations in Connecticut to bring Stubby home to, including New Haven and Hartford, but encountered "political resistance."
No matter, since once he met Martucci, things moved very quickly, Deane said. She soon convinced him Middletown should be Stubby's forever home.
"I felt like it was absolutely right. Sue is smart. She gets stuff done — she's really committed to this park. That's what really drove me, and then when she started talking about wanting to have a plaque for service members with PTSD, to me, that was ideal," Deane said.
California sculptress Susan Bahary, who has work on view around the world, is creating the piece. She's best known for the World War II War Dog Memorial "Always Faithful" in Guam, which was dedicated July 21, 1994.
"She just unveiled in New Zealand a tribute to horses sent to WWI," Deane said. "She has an extraordinary way of capturing animals."
Stubby was not really a 'war dog' per se, he was America's first service dog and the United States War Dog Association recognizes that, as does dog historian Mary Elizabeth Thurston, Deane said.
Ironically, the canine brought a sense of humanity to the battlefield.
"Stubby was a way to take the hard edges off the war for the soldiers," Deane said. "If a soldier got hit or wounded, Stubby was out of the trench into the field, and would sit by the soldier so the medics knew where to go to get him."
Stubby's olfactory senses were so acute that he could smell gas on the wind moving toward his infantrymen.
"He could hear the whistle of the shells as they were heading their way, so he would run up and down the trenches warning the soldiers to get their gas masks on and take cover," Deane said.
Stubby was America's first unofficial service dog, something Vietnam veteran Larry Riley, who joined the U.S. Air Force in 1966, and eventually became an expert combat dog handler, would like to see formalized.
"Officially making him a sergeant would be great," Riley said.
Canines have been used for hundreds of years in wartime.
"They used to tie dogs to outside of castles as an alert system," Riley told those gathered at Friday's event.
He trained two dogs in Vietnam.
"They both saved my life several times, along with alerting the base, so we could get people to the proper areas and repel the attack," he said.
In order to perform as one on missions, handlers form a tight bond with their canines — something that must be broken when a tour of duty ends, Riley said. It's not easy.
"It's amazing how loyal they are. In Vietnam, we had to leave those dogs there," Riley said. "After they did so much for us, the last thing we had to do was say goodbye to them — which was heartbreaking. Still, to this day, while I'm talking about it now, my eyes are starting to well up."
As Deputy Mayor Robert Santangelo, a Vietnam veteran, rose to speak at the ceremony, he took one look at the artistic rendering of the statue next to a photograph of the clay cast of Stubby.
"Bob Conroy was one heck of a dog trainer," he quipped. "How many of you can get your dog to stand up like that?"
The sculpture will be dedicated May 26, said Martucci, who couldn't be more pleased with the match.
"It's beyond words, it's just amazing," Martucci said. "We're saying Stubby is finding his forever home here in the Trees of Honor memorial — amongst all the other heroes. It's exciting."
On the horizon are two more projects, Martucci said.
Plans are in the works for two large, black laser-etched granite plaques at the entryway to the park.
"This will be a tribute to military working dogs, trying to make it somewhat more customized to Connecticut veterans," said Martucci, who has already been receiving photos from veterans of their service dogs.
Her hope is to have one of the dogs' likeness laser etched in the background of the plaque.
A second tribute will show awareness and empathy for veterans suffering with post-traumatic stress disorder, Martucci said. "We'll reach out to those that suffer wounds of war from combat," she said.
The U.S. War Dog Association has offered a $30,000 matching fund grant to the Trees of Honor project. Donations are still needed. Those interested in contributing can make checks out to the Stubby statue project and mail them to: ​CTHM, Inc., P.O. Box 86, Cromwell, CT 06416, or send payment via PayPal at cttreesofhonor.com.
For more information, visit Sgtstubbysalutes.org.