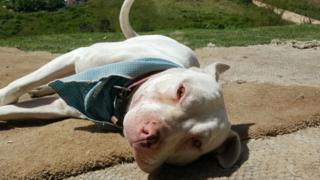 This is not the first time that happens: a policy well-intentioned ends up having unintended negative consequences.
This time it was in Colombia, and it is a chapter of the new Code of Police that entered into force on 30 January last: that it is for dogs so-called «potentially dangerous», whose aim is to prevent hurt to people or other dogs.
The standard makes mandatory the use of a muzzle for dogs that have starred in episodes of aggression to people or will they have caused death to other dogs, as well as for those who have been trained to attack and defense, and also sends to its owners to have an insurance.
And the rule also applies to a total of 14 breeds or their mixes, as well as future races that the government decides to incorporate to the list.
The races in question are american staffordshire terrier, bull mastiff, doberman, argentine dogo, dogue de bordeaux, fila brasileiro, mastino napolitano, bull terrier, pitbull terrier, american pitbull terrier, presa canario, rottweiler, staffordshire terrier and japanese tosa
And Jonathan Barker, the Foundation's Footsteps, Dogs in the Service of the Community, that rescues dogs, abandoned and vulnerable, says that since he left the Code with certain dogs have been burned, drowned , or left tied to the posts.
Abandoned, sacrificed,
There is more anecdotal evidence that realizes that dogs like the pitbull, for example, have been abandoned and even euthanized.
«I'm going to Bogota three times a week, passing through three villages, and this week in just one day I got to see four pit bulls roaming the streets, I saw a pit bull hanging from a tree branch, «he told BBC World Luis Martín, president of the Asociación Club Canino Colombiano.
Barreto, for his part, says that before the entry into force of the new Code were between 30 and 50 calls, WhatsApp messages and emails daily of people who found an abandoned animal, or who wanted to give theirs because they could not have more.
Now, he said to the BBC that are coming up to 100 calls a day, of which between 50 and 60% are of potentially dangerous dogs, nearly all pit bulls.
The insurance
On the one hand, the Code sets out fines for these breeds, ranging from the equivalent of US$75 (for transport of specimens potentially dangerous without a muzzle, for example), up to US$275 by not having the special insurance policy for owners of these animals.
The Police has already implemented a «fines pedagogical» (informative, non-monetary) for cases of dogs without a leash or without a muzzle, for example.
But the most confusion and fear has been generated, which has led to the neglect and sacrifice of some of these animals has been the requirement of the rule that the owners of these animals have a compulsory insurance of civil liability and damage to third parties.
Many believe that it will be able to afford it. In fact, still little is clear about the insurance, since the government has not regulated what should be your exact items (you have until the end of July to do so).
BBC World contacted two insurance companies and requested a policy to cover what you ask for the Code Police and I said yes, that they are offering.
However, the Federación de Aseguradores Colombianos launched a warning.
«What the insurance companies are products of voluntary insurance, which may cover civil liability,» he explained to the BBC its chairman, Jorge Humberto Botero.
«But they are not insurance designed to meet the requirements of the liability policy mandatory which includes the code of police, for the simple reason that these conditions are unknown, «he said.
What, according to Botero wants to say that they may well end up covering as required by the standard or not.
And the president of the Federation of Insurers Colombian believes that the idea of a compulsory insurance is unnecessary.
«Take your dog on a leash and if it is dangerous with a muzzle», it is your recommendation.
What stigma?
For his part, Javier Viracacha, breeder dogs breed bull terrier, referred to in the statement, it recorded a decrease in the number of consultations of possible interest in buying a copy.
«All of a sudden a family that was interested in buying one, you change your mind,» he told BBC World.
Believe that what is to stigmatize unfairly to certain breeds, something that also thinks Julius Caesar-Hole, a breeder of dogs fila brasileiro.
«I have not had a single problem with a dog of mine outside of my property,» he said. Although he said that as the row are very territorial, yes you should take precautions when someone enters your home.
The Kennel Club Colombian sent a letter for help to the regulation of the minister of the Interior and the director of the Police.
Your president believes that if this is not done well, the situation can get worse.
«There will be more dogs killed, and more dogs in the streets», he said with concern to the BBC.
And an increase in the number of abandoned dogs on the streets can lead to worsen the problem of attacks on people and other dogs, that is precisely what the standard seeks to avoid.