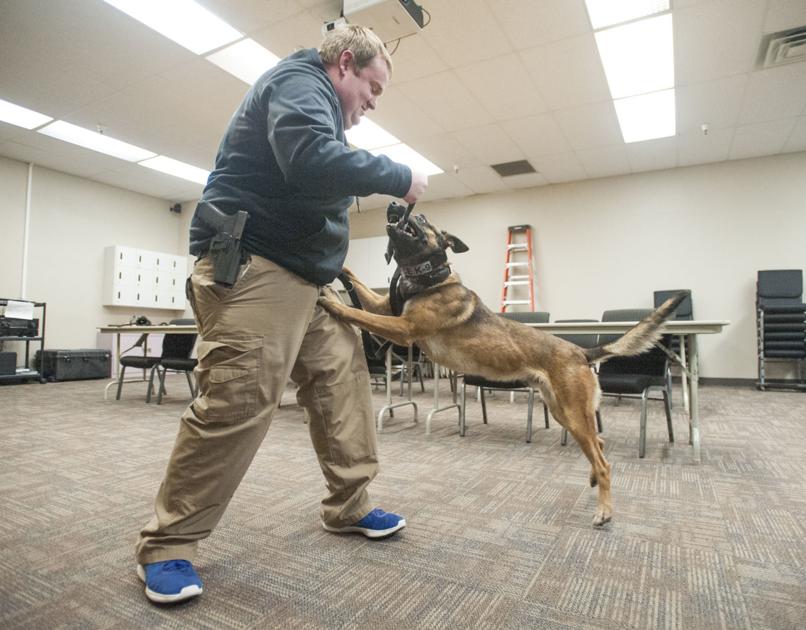 POCATELLO — Approximately 70 law enforcement officers and their K-9 partners will travel to Pocatello in May to sharpen their skills during the Idaho Police Canine Association Conference.
It will be the first time in about a decade that Pocatello has hosted the annual event.
"It's a great opportunity and a good community event. (Some of the dog) trials at the end are open to the public," said Sean Peterson, a patrolman with the Pocatello Police Department, who serves with his K-9 partner, Dex, a Belgian Malinois trained in apprehension and narcotics detection.
Peterson said the conference gives Idaho officers and their dogs a chance to work with instructors from all over the nation as they strive to test and improve their skills.
"It's a wonderful training opportunity for every team that participates," he said.
The conference, set to take place May 7 to 11 and includes classroom instruction for the officers and their dogs as well as some practical training where they can test their abilities in scent detection and suspect apprehension.
Peterson said they're collecting raffle prizes and swag bag items for attending officers and their K-9s. Anyone willing to donate prize items, which are tax deductible, can contact Peterson at 208-234-6142 or speterson@pocatello.us.
The conference will include some dog trials. The K-9s will compete in agility, apprehension and narcotic detection, and the public will be able to watch some of the events.
Peterson said the trials will take place on May 10. They haven't chosen a location yet, but will release more details when the event draws closer.
Peterson hopes the conference will not only be a positive experience for the attendees, but also the Pocatello area as the officers will eat at restaurants, stay in hotels and otherwise contribute to the local economy over the course of nearly a week.
"We're excited to hold it here," Peterson said.