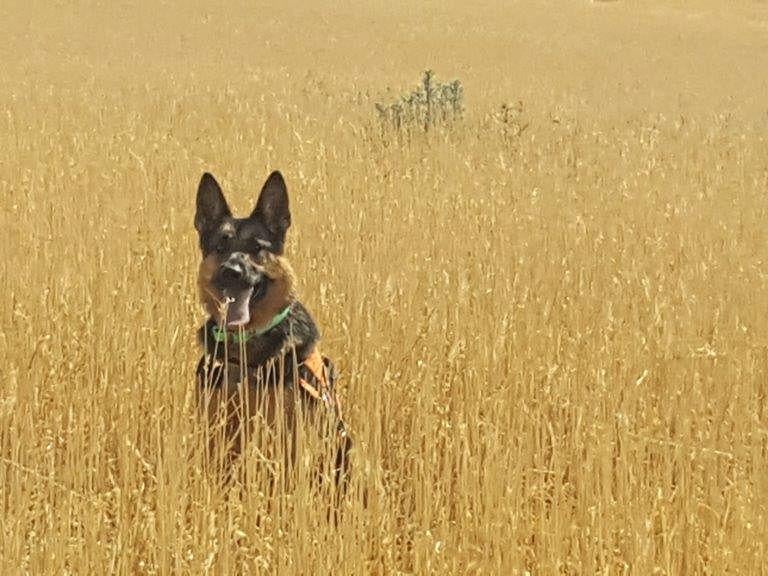 She was a Christmas gift before anything else. Coy Kline's son wanted a German shepherd, so Kline went and bought one. They named her Kikka. 
Kline, a Montana Fish, Wildlife and Parks game warden in Butte, didn't expect she would be going to work with him.
Kikka is one of two dogs helping FWP solve wildlife crimes, part of a trial project the agency is using to explore whether dogs should be used more widely. It's going well so far, especially for Kikka, whose nose cracked a poaching case near Gardiner earlier this month. 
«I think for her age, and the cases she's gone on, I think she's done well,» Kline said.
Using canines has caught on at several state wildlife agencies across the country, including in Idaho, but the idea is still new in Montana. 
«It's becoming more and more engrained into conservation law enforcement,» said Dave Loewen, chief of FWP's law enforcement division.
A warden in Columbus was the first to put a dog to work, beginning several years ago. Kline was the next to follow suit. FWP pays the two wardens nothing extra and don't cover any of the dogs' expenses. 
Loewen said part of the reason for the trial is to explore whether FWP should invest in canine work in the future, but any decision on that appears to be at least a few years away. 
He said the two dog teams seem to be working well so far, and that they've been able to find crucial physical evidence, like shell casings, that helps wardens make a case.
Kikka's transformation from family pet to working dog began after Kline ran into the other dog-toting warden, Paul Luepke. Kline said Luepke got him thinking about whether Kikka might be able to help him solve cases.  
So Kline started testing her by putting a dog biscuit under a box and telling her to look for it. When that seemed easy, he added more boxes. He eventually swapped a shell casing for the dog biscuit and started hiding stuff around the house.
«She really enjoyed it,» Kline said. 
When she was 9 months old, she was certified by a police dog association for article search, and Kline started taking her out on cases — headless deer, people shooting off the road. She was about a year old when she found her first shell in the wild.
A shell casing buried in snow was the key to solving a poaching case in Gardiner earlier this month. 
Kline was patrolling the bison hunt in Gardiner, where hunters from six Native American reservations and some licensed through the state take aim at bison migrating north. Kline got word that there were three dead bison near Beattie Gulch, a sliver of Forest Service land that abuts the border of Yellowstone National Park. 
He and a park ranger walked to the bison to gather DNA samples and see what other bits of evidence they could find.
Kikka looked around, too. 
«She ended up finding one shell casing in about 3 inches of snow,» Kline said. 
It was a unique caliber, and Kline and other law enforcement officers linked it to someone they suspected of being in the area around the time the bison were killed. Three men ultimately pleaded guilty to illegally hunting bison and wasting game meat. 
«It just happened to be one of those deals where the stars kind of aligned on this case from start to finish,» Kline said.
Kline has quite a few stories like that now. He enjoys having the dog at work. Kikka is about 2-and-a-half now, and she's still Kline's son's dog — she just has a day job. 
Kline said his son doesn't mind. 
«I tell him about every find she makes,» Kline said, «and he's just tickled pink.»