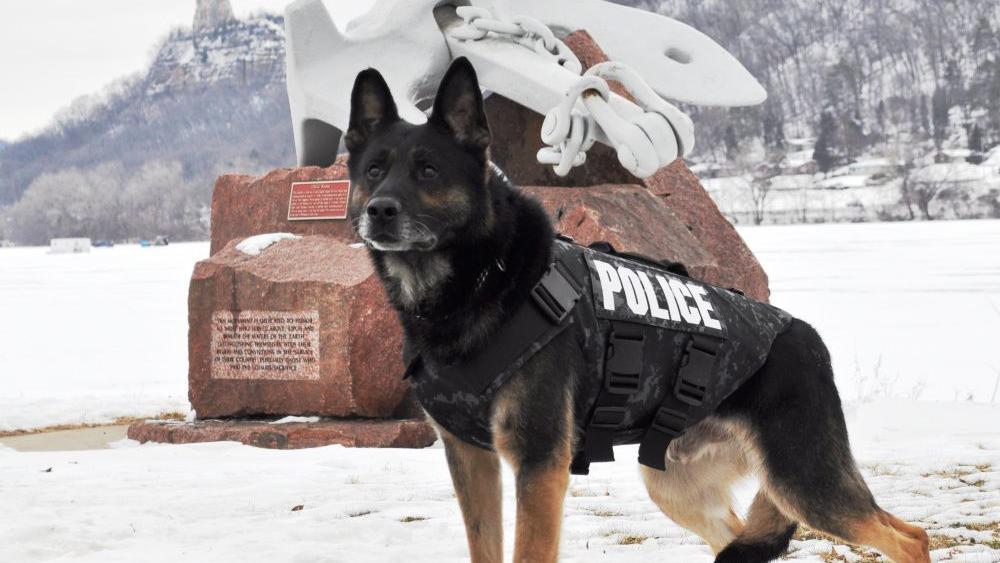 An officer, a partner, a force multiplier and above all man's best friend.
K-9 Neko, a 10-year-old German shepherd from the Czech Republic who joined the Winona Police Department in 2009, retired late Thursday morning after nearly a decade of service.
For Neko's handler, officer Brad Barrientos, his last night working with his longtime partner was a bittersweet one. Neko wouldn't be returning to work him.
Deputy Chief Tom Williams said Barrientos was influential in bringing the K-9 program back to the department after he approached it with a proposal in 2008.
"He's been a great addition," he said of Neko.
In early 2009, Barrientos got what he wanted, and he and Neko began their training at the Canine Police School in St. Paul. There, Neko received additional training as a patrol and narcotics dog.
In May 2009, Neko officially joined the department. Since then, Barrientos and Neko have fielded thousands of calls.
He said Neko helped make downtown Winona a safer place for everyone.
"Back in 2011 and 2012, we used to have a lot of problems downtown, and we'd have a lot of fights down at Schyde's and Brothers at the time — not so much anymore," he said. "When we'd arrive on scene, that dog barking in the back seat was just as intimidating as a siren from a squad car coming from a couple blocks away."
Barrientos described this behavior as a force multiplier.
"Everyone seems to watch their Ps and Qs when the dog arrives on scene," he said. "It's almost like one (K-9) officer is equivalent to three, four or five officers because of how intimidating he can be."
Barrientos said despite what it might look like, the barking isn't aggression. Instead, it is an intimidation tactic trained into the dog at the canine school.
"Although Neko sounds big bad and intimidating, that type of behavior is trained into our dogs," he said, adding when the dog finds a suspect who is hiding, the dog is rewarded.
"They do all of this not out of aggression, they do all of this because they have a high play drive," Barrientos said. "He's not mean, he's not aggressive, he's got a high play drive."
Neko's skill tracking down suspects and detecting narcotics earned him top marks from the U.S. Police Canine Association.
Neko earned first place in the narcotics search in 2017, suspect search in 2016 and third place overall in 2014.
With Neko's retirement, Barrientos will transition back to a patrol officer and will pass the torch to another officer, Doug Inglett, and his new K-9 partner Goose, who are attending the canine academy this month.
"It's going to be a little bit of a relief to not have that extra responsibility on my shoulders," Barrientos said, adding that he'll miss working with Neko. "I liked being the first one in the door with the dog. I'm definitely going to miss that."
While he will miss working alongside his partner, Barrientos isn't saying goodbye. Neko will spend his retirement as a member of Barrientos' family.
"His services are going to be sorely missed," Williams said.